What-to-Wear: Super Bowl Party
The Super Bowl is just around the corner and my inbox is overflowing with invites that demand things like 'put on your best game face', 'show your team spirit', or just simply 'RAGEEE'. Needless to say, football is not exactly my cup of tea but every year, like clockwork, I am inevitably coerced into watching the Super Bowl.
While I have absolutely no interest in the Super Bowl or football, I
am
interested in Super Bowl parties. Somehow, endless amounts of pizza and free-flowing cheap beer make all of the excess testosterone worth it; so I show up, eat carbs, and cheer when everyone else does. I've learned from years of experience that pretending to care about the game is a lot easier than explaining to a bunch of 'stoked' football bros why I find the sport so uninteresting.
The trick to fooling football fans is to dress like a football fan, so this week's "What to wear?" is for my readers who are struggling to make football fashionable. Look good this Super Bowl Sunday
and
look like a fan with this touchdown ready outfit.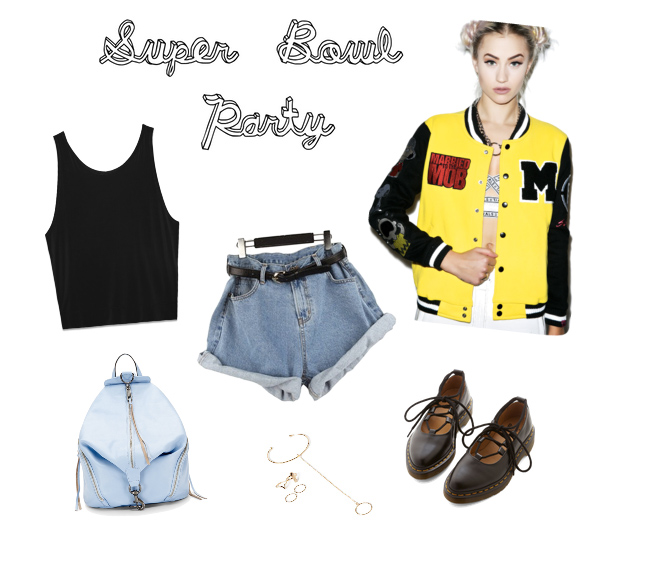 1. Varsity Jacket
Stand out in a sea of ill-fitting jerseys and terrible color combinations in this playful, fashion forward take on the varsity jacket. Yellow and black are two colors that actually work together, while the varsity fit gives off the illusion that you
may
be interested in sports. Everyone will be too busy fist bumping or face palming to notice that you're jacket doesn't represent a team at all. This varsity jacket is by
Married to the Mob
and is available
here
.
2. Oversized Tank
An oversized tank nods to the traditional sports jersey without being too literal. Pick a neutral color to dress down the varsity jacket while still maintaining an 'athletic' aesthetic. Wear with a lace bralette peeking out to keep the look feminine. This tank is by
Helmut Lang
and can be bought
here
.
3. High-Waisted Shorts
High-waisted shorts are just casual enough to hang with football fanatics while being cute enough to save you from the head shakes of fashionistas. Bonus: the high waist will also hide the fact that you've been eating all of the pizza and drinking all of the beer during the game. Woops. These shorts are vintage, but a similar pair can be found
here
.
4. Flatforms
I've learned from experience that anything that resembles a heel will be mercilessly made fun of during this sacred football event. Louboutin or Payless, football fans could care less––unless you're talking linemen and pig skin. That being said, I've learned how to get at least an inch of lift while still maintaining the illusion of flats. Pick a platform, or flatform, and cheat your way to the top with these 'flats' by Dr. Martens. Buy
here
.
5. Don't Forget!
An eye catching
hand chain
to cheer in when the game is finally over, and a colorful
backpack
to show off your 'team' spirit.
I may not know anything about football, but I do know a thing or two about dressing up and partying. Fake it 'til you make it, and look cute while you chug beers with the bros this Sunday.
Happy fist bumping!
Credit:
Polyvore